Conway County
From FranaWiki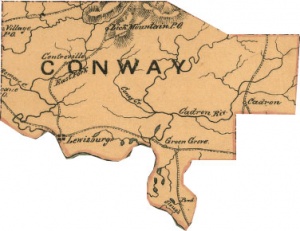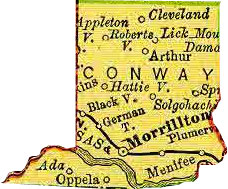 Conway County is a county political unit in central Arkansas formed on October 20, 1825, from land taken from historic Pulaski County. The county is named for Henry Wharton Conway, Arkansas territorial delegate to the U.S. Congress. Scenic Petit Jean Mountain is a popular local and regional tourist destination. Neighboring counties include Van Buren County, Faulkner County, Perry County, Yell County, and Pope County.
History
Conway County was established on October 20, 1825, from lands carved away from historic Pulaski County.
Geography
Conway County comprises 556 square miles of territory. The county is characterized by farmlands, cattle ranches, thick pine forests, Ozark and Ouachita foothills mountain ranges, mountains, and lakes. The county is drained in the south by the Arkansas River and Cadron Creek. Cedar Falls is among the tallest waterfalls in the American South. Two notable lakes in the county are Overcup Lake and Brewer Lake. Brewer Lake is the water supply for the city of Conway.
Transportation infrastructure
Interstate 40 passes east-west through the southern part of the county. U.S. Highway 64 parallels the interstate just to the south, and passes through Menifee, Plumerville, Morrilton, Kenwood, and Blackwell. Scenic Arkansas Highway 9 passes through the county from the northeast to the southwest, passing through Center Ridge, Birdtown, Solgohachia, Overcup, Morrilton, and Oppelo.
Economy
The largest employers in Conway County are Green Bay Packaging, ICT Group, the South Conway County Public School District, Wal-Mart, Telex Communications, St. Anthony's Healthcare Center, University of Arkansas Community College at Morrilton, Wayne Smith Trucking, Winrock International, Arch Ford Educational Services Coop, Morrilton Healthcare Center, Petit Jean State Park, the Wonderview Public School District, Hixson Lumber Sales, and the Coca-Cola Bottling Company.
Law, government, and politics
The Conway County Courthouse is located in Morrilton. The county judge is Jimmy Hart.
Education
Morrilton is home to the University of Arkansas Community College at Morrilton. The county has four public and private high schools: Morrilton High School (Morrilton), Nemo Vista High School (Center Ridge), Sacred Heart High School (Morrilton), and Wonderview High School (Hattieville).
Religion
Places of interest
Many visitors to the country come for the natural beauty and recreational facilities at Petit Jean State Park. The park is considered the "flagship" of the state's extensive park system. The park is known for natural features like Cedar Falls, Bear Cave, and Rock House Cave. Other places of interest on top of Petit Jean Mountain are Winrock Farms and the Museum of Automobiles.
Demographics
According to the U.S. Census Bureau the 2000 population of Conway County was 20,336.
1980 - 19,362
1990 - 19,151
2000 - 20,336
2005 - 20,739
Communities
Conway County has three incorporated cities within its boundaries: Morrilton, Oppelo, and Plumerville. It has one incorporated town: Menifee.
Other populated places in Conway County:
Arthur
Austin
Bethlehem
Blick
Catholic Point
Cedar Creek
Clebb (historical)
Country Estates
Cypress Valley
Deerwood
Divide (historical)
Friendship
Gobblers Point
Grandview
Hickory Hill
Hill Creek
Holly Springs
Index (historical)
Lanty
Lick Mountain
Lone Grove
Lost Corner
Macedonia
McClaren
Middleton
North Hills Subdivision
Northview Subdivision
Old Hickory
Pleasant Hill
Rehms Corner
Riverview
Robertsville
Sandtown (historical)
Spring Meadows
Sunnyside
Wesley Chapel
West (historical)
Winrock
Wonderview
Woolverton (historical)
References
External links