Petit Jean Mountain
From FranaWiki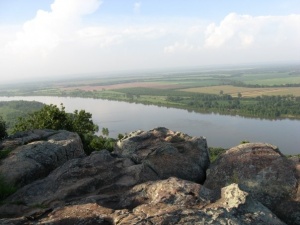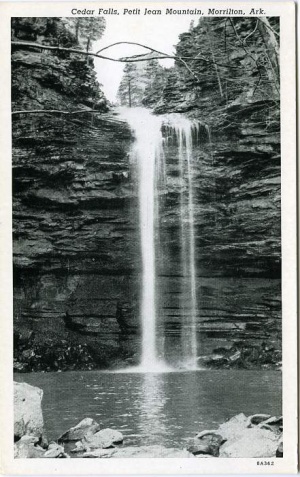 Petit Jean Mountain at 1180 feet in elevation overlooks the Arkansas River valley in Conway County, Arkansas. The mountain is named for a young woman named Adrienne who by legend pretended to be the cabin boy "Petit Jean" in order to follow her fiancee Chavet on an expedition to the New World led by Hernando de Soto. Petit Jean's grave is located atop the eastern tip of the mountain.
Petit Jean Mountain is home to Arkansas' first state park, formed in 1923 from a land deed donated to the state by the Fort Smith Lumber Company. The park is the first in the Arkansas state park system and is still considered the "flagship." The park boundaries today comprise 3,471 acres of the mountaintop. There are a number of stunning natural geological features within the park boundaries, including a number that have been named: Bear Cave, Carpet Rocks, Cedar Falls, The Grotto, Natural Bridge, Rock House Cave, and Turtle Rocks. Several of the sites have evidence of visits dating to prehistoric Native American times. The park has twenty-one miles of hiking trails and a number of structures, most notably Mather Lodge, erected by the Civilian Conservation Corps in the depths of the Great Depression.
The mountain is also home to the Winrock Institute, Winrock Farms, and the Museum of Automobiles.
References
External links