Perry County
From FranaWiki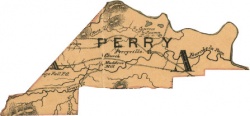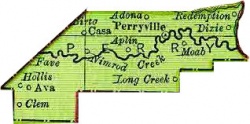 Perry County was established by the State of Arkansas in 1840 from Conway County lands south of the Arkansas River. The county is named for War of 1812 hero Commodore Oliver Hazard Perry. Neighboring counties include Conway County, Faulkner County, Pulaski County, Saline County, Garland County, and Yell County.
History
Perry County was created in December 1840 out of territory south of the Arkansas River previously administered by Conway County.
Geography
About half of 551 square mile Perry County is part of the Ouachita National Forest. The land is covered by extensive forests and the Ouachita Mountains, with clearings and pastureland devoted to raising cattle, hogs, and poultry. Rice and soybeans are also grown in the county.
Transportation infrastructure
Economy
The largest employers in Perry County are the Perryville Public School District, East End Public School District, Perry County Nursing & Rehabilitation Center, Perry County Food & Drug, Heifer Project International, Chart Bank, Twin Rivers Public School District, Southern Chips, Sonic Drive-In, and Electronic Fabrication Service.
Law, government, and politics
The county judge is Baylor House. The Perry County Courthouse in Perryville is on the National Register of Historic Places.
Education
Perry County has three high schools: Bigelow High School (Bigelow), Perry-Casa High School (Casa), and Perryville High School (Perryville).
Religion
Places of interest
The county has a number of places of interest including the Heifer Project International Learning and Livestock Center, Harris Brake Wildlife Management Area, Lake Nimrod, Lake Sylvia, and the Fourche LaFave River.
Demographics
According to the U.S. Census Bureau Perry County's population in 2000 was 10,209.
1980 - 7,240
1990 - 7,969
2000 - 10,209
2005 - 10,468
Communities
Perry County has one incorporated city within its boundaries: Perryville. Incorporated towns in the county are Adona, Bigelow, Casa, Fourche, Houston, and Perry.
Other populated places in Perry County:
Antioch
Ava
Bellevue (historical)
Bunker Hill
Camp Pershing (historical)
Cherry Hill
Copperas Gap (historical)
Deberrie
Dixie (historical)
Graytown
Homewood
Kenney (historical)
Ledwidge
Moab (historical)
Oak Grove
Orchard (historical)
Pleasant Valley
Ragsdale
Rankin (historical)
Satuma
Stony Point
Sweet Home
West Aplin
References
External links