Lewisburg
From FranaWiki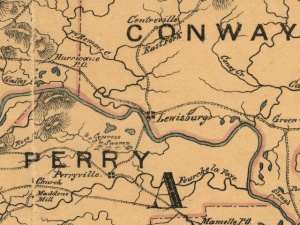 Lewisburg was the original county seat of Conway County, Arkansas. The county seat later moved to Morrilton.
Major William Lewis, his son Stephen Lewis, and Dr. Nimrod Menifee founded Lewisburg as a trading post in 1825. It was the first such trading post in the county. The community became the county seat in 1831, and a post office opened the next year. A courthouse was established in a log cabin. The town was formally incorporated in 1844, and by 1850 held approximately two thousand residents and eighty businesses. The town once supported two newspapers, the Western Empire and the Wide-Awake.
Located on the Arkansas River the town witnessed the arrival of numerous steamboats. A number of steamboats were constructed at the town site prior to the Civil War. The first ferry across the river at the town was established by a man named McKnobb in 1848. A steam ferry owned by R. D. Morgan replaced this early ferry in 1882. Markham Tavern served as a relay station on the Butterfield Stage Route between Little Rock and Fort Smith. The town also had an opera house.
In 1875 the Little Rock and Fort Smith Railroad bypassed the town when local citizens refused to pay $2,000 to have the rails pass through town. By 1880 many townspeople and businesses had moved a mile north to Morrilton to be close to the vital rail connection. The last ferry operator was Charles Isley Sr., who continued to provide the service until a bridge was constructed in 1919.
References
External links