Faulkner County
From FranaWiki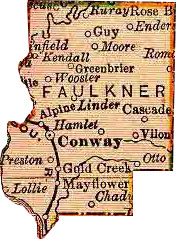 Faulkner County is a county in central Arkansas, formed in 1873 from portions of Conway County and Pulaski County. It is part of the Little Rock–North Little Rock–Conway Metropolitan Statistical Area. Although Faulkner County is a dry county, several businesses in Conway are obtaining club memberships in order to serve alcohol to legal patrons.
Faulkner County is bounded by Cleburne County, White County, Lonoke County, Pulaski County, Perry County, Conway County, and Van Buren County.
History
Faulkner County was established on April 12, 1873, from lands taken from Conway and Pulaski counties. The county is named for the "Arkansaw Traveler" Colonel Sanford C. Faulkner.
Permanent white settlement in Faulkner County began at Cadron Settlement to the north and west of Conway on the Arkansas River. John Standlee visited the Cadron area as early as 1778, and settled in 1814. He was soon joined by his son-in-law John C. Benedict. Other early settlers at Cadron were John McElmurray, Benjamin Murphy, and Harvey Hager. Other pioneers settled near the mouth of Palarm Creek in the southern part of the county.
The first grist mill in the county was established by brothers John Standlee and William Standlee in 1818. That same year early settler Jonathan Hardin carved out a farm on Cadron Creek near the present site of the town of Holland. The first store in Conway was opened by R. T. Harrison. The second opened under Max Frauenthal.
In 1872 Little Rock and Fort Smith Railroad completed a line through the county, roughly following the right bank of the Arkansas River. At Conway railroad locomotives were pulled through Cadron Gap and over the Cadron Ridge to Gleason just north of town.
Geography
Faulkner County comprises 647 square miles of territory. The county is characterized by several notable lakes, as well as hilly uplands and marshy lowlands. The Arkansas River flows along part of the western edge of the county. The average elevation of the county is about 400 feet.
The county has twenty three townships: Benedict, Benton, Bristol, Cadron, California, Clifton, Cypress, Danley, Eagle, East Fork, Enola, Hardin, Harve, Matthews, Mount Vernon, Mountain, Newton, Palarm, Pierce Creek, Pine Mountain, Union, Walker, and Wilson.
Transportation infrastructure
Economy
The largest employers in Faulkner County are Acxiom, the University of Central Arkansas, IC Corporation, the Conway Public School District, Conway Human Development Center, Conway Regional Medical Center, Wal-Mart, Virco Manufacturing, Kimberly-Clark, Hendrix College, the Vilonia Public School District, the Greenbrier Public School District, Tokusen USA, Heritage Company, Sonic Drive-In, Rock-Tenn, International Paper, Kroger Food Stores, and San Antonio Shoe Company.
Law, government, and politics
The county seat of Faulkner County is Conway. The county judge is Preston Scroggin.
Faulkner County Sheriffs:
Benton Turner (1873-1874)
J. E. Martin (1874-1876)
W. J. Harrell (1876-1878)
J. D. Townsend (1878-1882)
A. J. Witt (1882-1886)
L. B. Dawson (1886-1890)
J. B. Wilson (1890-1894)
H. B. Ingram (1894-1898)
W. S. Hendrickson (1898-1902)
J. H. Harrell (1902-1904)
Education
Conway is referred to as the "City of Colleges." Within its city limits are the public University of Central Arkansas, and the private Hendrix College and Central Baptist College.
The county has seven public and private high schools:
Religion
Places of interest
Several popular parks are found in the county, including Toad Suck Park and Woolly Hollow State Park. Lake Conway hosts national fishing tournaments and is the largest Game and Fish Commission lake in the nation. The May Toad Suck Daze festival in Conway is also popular.
Demographics
As of the 2000 United States Census, the population was 86,014. The population density of the county was 130 people/square mile.
1880 - 12,786
1890 - 18,342
1900 - 20,780
1910 - 23,708
1920 - 27,681
1980 - 46,080
1990 - 60,006
2000 - 86,014
2005 - 97,147
Communities
Faulkner County has a number of incorporated cities within its boundaries: Conway, Greenbrier, Holland, Mayflower, and Mount Vernon. Incorporated towns in the county are Damascus, Enola, Guy, Twin Groves, Vilonia, and Wooster.
Other populated places in Faulkner County:
Acklin Gap (historical)
Beryl
Bessie (historical)
Bono
Bristol (historical)
Brockington Corner
Cadron (historical)
Center Point
Centerville
Chadwick (historical)
Duncans Gap (historical)
Funston
Garland Springs
Gentry Corner
Gold Lake Estates
Hawthicket (historical)
Lakeview Acres
Linder
Lollie
McGintytown
Mount Olive
Old Linder (historical)
Old Texas
Pickles Gap (historical)
Pinnacle Springs (historical)
Pleasant Valley
Preston
Providence (historical)
Red Hill
Rolling Hills
Round Mountain
Rowlett (historical)
Salem (historical)
Shady Grove
Soda Valley
Sunny Gap (historical)
References
Weston Arthur Goodspeed, ed., The Province and the States: A History of the Province of Louisiana under France and Spain, and of the Territories and States of the United States formed therefrom, vol. 7 (Weston Historical Association, 1904), 53-55.
Dallas Tabor Herndon, Centennial History of Arkansas, vol. 1 (Southern Historical Press, 1922), 754-755.
External links