Lonoke County
From FranaWiki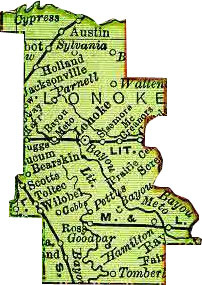 Lonoke County was created in 1873. The county was named for a very large red oak tree stood alone at the site of the county seat of Lonoke ("Lone Oak"). Neighboring counties include White County, Prairie County, Arkansas County, Jefferson County, Pulaski County, and Faulkner County.
History
The county was formed on April 16, 1873.
Geography
Lonoke County, comprising 766 square miles of territory, is mainly agricultural. The southeastern part of the county is drained by the Bayou Meto and Two Prairie creeks.
Transportation infrastructure
Interstate 40 passes through the central part of the county from east to west. The interstate is paralleled by U.S. Highway 70. U.S. Highway 67 passes through the northwest part of the county. U.S. Highway 165 enters the county from North Little Rock at Scott, passes southeast through Keo and England, then heads due east through Coy, Allport, and Humnoke.
Economy
The largest employers in Lonoke County are the Cabot Public School District, Remington Arms Company, Wal-Mart, Lonoke Public School District, England Public School District, McDonald's, Sonic Drive-In, Golden Years Manor, Knight's Super Food Store, Kroger Food Store, Bank of England, and the Carlisle Public School District.
Law, government, and politics
The county judge is Charlie Troutman. The current Lonoke County Courthouse was constructed in 1928, the two previous courthouses having been destroyed by fire.
Education
Lonoke County has four high schools: Cabot High School (Cabot), Carlisle High School (Carlisle), England High School (England), and Lonoke High School, Lonoke.
Religion
Places of interest
Places of interest include the Lonoke County Courthouse Square, Toltec Mounds State Park, the Smoke Hold Natural Area, and Joe Hogan Fish Hatchery.
Demographics
According to the U.S. Census Bureau the 2000 population of Lonoke County is 52,828.
1980 - 34,582
1990 - 39,268
2000 - 52,828
2005 - 60,658
Communities
Lonoke County has a number of incorporated cities within its boundaries: Austin, Cabot, Carlisle, England, Humnoke, Lonoke, and Ward. Incorporated towns in the county are Allport, Coy, and Keo.
Other populated places in Lonoke County:
Bailey Addition
Bailey Estates
Bayou Meto
Bel-Aire Subdivision
Bevis Corner
Boyd (historical)
Brownsville
Brummitt
Camelot Acres
Camilla (historical)
Candlewood Estates
Castle Heights
Cedar Hills Estates
Cinnamon Acres
Circle B Addition
Cobbs
Confederate Place
Cooper Addition
Country Club
Country Club Addition
Country Lane
Country Road Estates
Crestwood
De Boer
Deer Creek Subdivision
Dogwood Meadows
Eagle Park (historical)
Evans Estates
Evergreen Place
Fulmer Field Estates
Geridge
Glenwood Estates
Greyhawk Addition
Hamilton
Hamiter
Hidden Oaks
Holland
Hoover Addition
Kelly Addition
Kemp Addition
Kingwood Addition
Leaning Pines
Lincoln Terrace
Lindulake Addition
Mark Lynn Terrace
McCreanor
McDermott Addition
Meadowlark Addition
Meto
Meto (historical)
Mount Carmel Estates
Mount Springs Estates
Mountain Springs
Oak Forest
Oakridge Estates
Old Austin
Opal
Parkers Corner
Pershing Addition
Pheasant Run Addition
Pine Hill Estates
Pinewoods Addition
Poage Addition
Prairie Center
Ridgecrest
Ryan
Sellers Addition
Shadow Oaks Addition
Shady Grove Estates
Sisemore
Southbridge Addition
Southside Addition
Southwood Addition
Spring Valley
Stagecoach Addition
Summit Addition
Sunland Estates
Sweetwater Estates
Sylvania
Talbot Addition
The Heights Addition
The Meadows Addition
The Oaks
TKO Subdivision
Toltec
Tower Hill Addition
Trailwood Addition
Union Valley
Vise Addition
Wabbel
Walkers Corner
Waterproof
Wattensaw
Waymack Addition
Welders Wood
Whispering Pines Addition
Whisperwood
Wildwood
Willow Belle
Willow Lake Subdivision
Windwood Circle
Windwood Heights
Woodiel Acres
Woodlawn Addition
Woodlawn Estates
Young Subdivision
References
External links