William J. Clinton Presidential Center and Park
From FranaWiki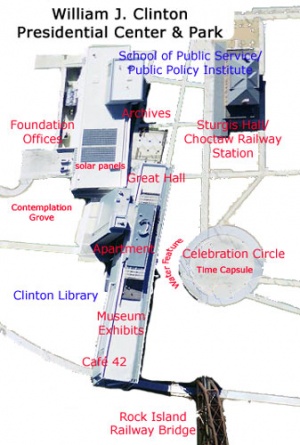 The William J. Clinton Presidential Center and Park located at 1200 East President Clinton Avenue is the home of the Clinton Presidential Library, the Clinton School of Public Service, and the Clinton Public Policy Institute. The Library was funded by the William J. Clinton Foundation. The Presidential Center and Park is located on an old 27.2 acre brownfield just east of the I-40 ramp and River Market District on the south bank of the Arkansas River in Little Rock. All of the buildings on the site, except the renovated Choctaw Railway Station, were designed by New York architects James Polshek and Richard Olcott.
More than 112,000 people made donations to defray the $165 million in construction costs for the presidential center complex. The names of many of these donors are etched in bricks outside the main entrance to the museum. Regular upkeep of the facilities - estimated at $4 million in the first year of operation - is supported by an endowment of $7.2 million and regular funds of the National Archives and Records Administration. Entry fees pay for public programs.
The Clinton Foundation has logged approximately 800,000 official visits to the Clinton Library in the first two years since the Library opening.
Clinton Presidential Library
The main building, comprising the Clinton Library Museum and Great Hall, has been variously called a "bridge to the 21st century" (a favorite Clinton expression) as it juts out towards the river's edge, and as the "presidential double-wide" for its color, shape, and association with a president from small-town Arkansas.
Reviewer Nicolai Ouroussoff has written that the library building evinces "a firm grasp of local vernacular traditions, from decaying industrial bridges to the rickety shotgun shacks that are a haunting emblem of the old South." Ouroussoff believed that Polshek's plans fell short, however, as the Library architecture did not "tap into the psychological complexity or political nuances that made Bill Clinton one of the most fascinating characters of our era - the charisma, the supple mind, the populist touch."
See also
Clinton School of Public Service
See also
Clinton Public Policy Institute
Building Architecture and Design
See also
Building Construction
See also
Landscape Architecture & Site Remediation
See also
See also
References
Nicolai Ouroussoff, "Architecture Review: William J. Clinton Presidential Center an Earnest Building for a Complex President," New York Times, November 25, 2004.
External links