Café 42
From FranaWiki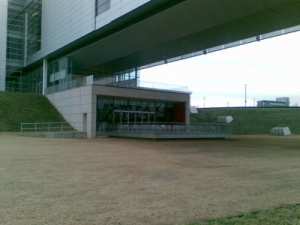 Café 42 is a restaurant located in the Clinton Library at 1200 President Clinton Avenue. The number 42 signifies Clinton's line in the succession of American presidents since George Washington. Café 42 officially opened for business on November 22, 2004. Café 42 chef James Hughes offers up fried alligator bites and reuben sandwiches. The restaurant offers regular jazz performances, a Sunday brunch and buffet, and a lunchtime salad bar.
The restaurant is under the management of Quentin Turner, president and owner of Catering Connection in Tulsa, Oklahoma. Café 42 offers catering for other events taking place around the Clinton Presidential Center complex. Turner holds a contract for catering services through 2009.
References
"Tulsa, Okla., Catering Firm Serves at Clinton Presidential Center," Tulsa World, November 20, 2004.
External links