Choctaw Railway Station
From FranaWiki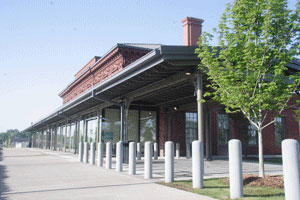 The Choctaw Railway Station (also known as the Choctaw Route Station) is located on the grounds of the Clinton Presidential Center in Little Rock, Arkansas. The the 16,500 square foot station is the current home of the Clinton School of Public Service and has been renamed Sturgis Hall.
The railway station, formerly known as the Choctaw, Oklahoma & Gulf passenger station, opened in December 1899. The Choctaw, Oklahoma & Gulf Railroad connecting Memphis to Oklahoma was transferred in a hostile takeover to the Rock Island Railroad in 1904. Passenger service at the station ceased in 1967. The Choctaw Railway Station once housed a Spaghetti Warehouse restaurant and The Edge nightclub.
The station was redesigned in the early 2000s by Polk Stanley Rowland Curzon Porter Architects. Doyne Construction Company of North Little Rock accomplished the renovation for $4 million between October 2003 and August 2004. The building required 30 I-beams weighing ten tons for added stability and load bearing, a new roof, concrete and poplar flooring, and new mechanical heating and cooling systems.
A companion structure, the Choctaw Freight Depot, was razed by the Clinton Foundation on November 21, 2001.
References
External links