Arkansas River Trail
From FranaWiki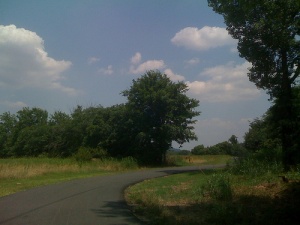 The Arkansas River Trail (or as it is also known, the Millennium Trail) is an ongoing trails project in the Little Rock and North Little Rock, AR, areas. It is paved with asphalt, making it very accessible to cyclists, walkers, joggers, and runners alike. With its friendly environment and beautiful scenery, including an overlook of the Arkansas River from on top of the Big Dam Bridge (otherwise known as the Pulaski County Pedestrian and Bicycle Bridge), the River Trail has become a very popular attraction for the local population, sight seers and tourists. The trail is traffic-free for the vast majority of the trail. The traffic is limited to parking areas for all of those who would be visiting the trail.
The trail is planned to be completed sometime in 2008, when it will reach a stretch of 24 miles, while circling around the Little Rock, North Little Rock, and the Big Dam Bridge. The trail begins and ends at the Clinton Presidential Library in the River Market District, but the greatest attraction is atop the Big Dam Bridge, which stretches over the Arkansas River; which sees hundreds of visitors each day. The trail in itself is very peaceful and quiet, except for the roars of the dam located on the river. The northern loop of the trail also passes through Burns Park, one of the largest public parks in the nation. Beginning at the Little Rock River Market, the Medical Mile part of the trail includes "the nation's first outdoor linear health museum." Thirteen hundred feet of the trail is lined by exhibits and kiosks on a healthy lifestyle.
The River Trail crosses the Junction Bridge and will eventually cross the Rock Island Railway Bridge in downtown Little Rock. Trail supervisors are also looking to acquire land near the Union Pacific Railroad. Union Pacific has given their provisional acceptance for the building of a small bridge near the Amtrak station at Baring Cross.
Eventually, the River Trail will be connected by a five-mile extension to the 224-mile Ouachita National Recreation Trail at Pinnacle Mountain State Park.
Many people and organizations have contributed to the development of the Arkansas River Trail. One of the leaders is Terry Eastin of the Headwaters Partnership for the Arkansas River Trail.
References
Keith Merckx, "Arkansas River Trail: The Trail That Has It All," Rails-to-Trails Magazine (Fall 2007): 8-13.
External links