Julius Breckling Riverfront Park
From FranaWiki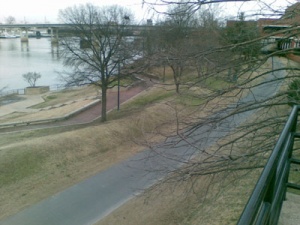 Julius Breckling Riverfront Park is located along the Arkansas River in downtown Little Rock. Riverfront Park contains the Riverfest Amphitheater, The Peaks, the History Pavilion, La Petite Roche, and the Belvedere.
An extension of the park behind the Peabody Hotel that features a climbing area and spray fountain is called Peabody Park (formerly Riverfront Park West).
References
Hodges, Vines, Fox & Associates, Final Environmental Assessment of the Cumulative Impact of the Proposed Downtown Little Rock Riverfront Development (Little Rock, AR: City of Little Rock, August 1980).
Brandon Tubbs, "Adventure Begins Soon at LR Park," Arkansas Democrat-Gazette, February 21, 2008.
External links