La Petite Roche
From FranaWiki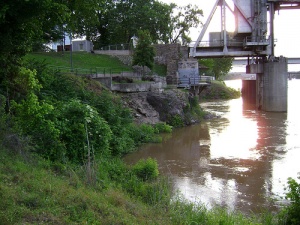 La Petite Roche ("The Little Rock") is the French name given to a 260-300 million year old sandstone and shale rock formation located along the Arkansas River in downtown Little Rock, Arkansas. The outcropping is said to have been named by French explorer Jean-Baptise Bénard de la Harpe in May 1722. De la Harpe was looking for a mountain or large rock in the region called the "Green Rock" by the Quapaw Indians and purportedly made of emerald. Instead he found and named what is now known as La Grande Roche a few miles upstream from the Little Rock.
La Petite Roche is often pointed to as the first visible rock formation beyond the alluvial plain in the Mississippi River system above the Gulf of Mexico. The outcropping may be as much as 300 million years old. The rock became famous as it was located near the main southwestern trail from St. Louis through the frontier region, and represented a relatively safe place to ford the river.
It is not known whether the rock identified today as La Petite Roche is the rock noted by de la Harpe, but the name has been connected to the present site since at least 1812. It also remains unsubstantiated whether Hernando de Soto camped near the rock in his 1541 expedition in the area.
A large piece of La Petite Roche was transported to the grounds of Little Rock City Hall in June 1932. The 4,700 pound rock was removed from the riverfront by the Little Rock Civitan Club. In 2010 the club returned the boulder to a new plaza in Riverfront Park. The rest of the riverside rock outcropping now forms the abutment of the nearby Junction Bridge crossing built in 1884.
References
Kristin Netterstrom, "LR Boulder in Place as Tourist Attraction," Arkansas Democrat-Gazette, April 25, 2010.
Kristin Netterstrom, "Project Carving Out Path to View Chunk of LR Lore," Arkansas Democrat-Gazette, March 27, 2009.
Kristin Netterstrom, "Showcasing City's Rock No Easy Task," Arkansas Democrat-Gazette, November 20, 2008.
Stephanie Simon, "Arkansas Capital Actually Has a Little Rock -- If You Can Find It," The Wall Street Journal, January 28, 2009.
External links