History Pavilion
From FranaWiki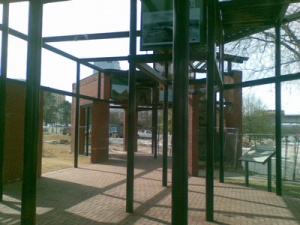 The History Pavilion in Little Rock's Riverfront Park opened in 1983 to educate the public on the history of the city and of its famous nearby landmark La Petite Roche. The open air shelter also protects a two-ton, 20 foot-tall Indian Head carved by Peter Toth in 1975.
The rental charge for the pavilion is $50.
References
Jack Schnedler, "Don't Knock That Little Rock," Arkansas Democrat-Gazette, August 3, 2001.
External links