Little Rock Marathon
From FranaWiki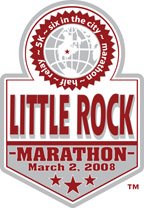 The Little Rock Marathon is an annual event that takes places each March. Participants can run, walk, or do a combination in any of the events; indeed, the event's motto is "a race for every pace." Enthusiasts can take their pick of the Little Rock Marathon (26.2 miles), the Little Rock Half Marathon (13.1 miles), the Little Rock Relay Marathon (26.2 miles divided into four sections with each individual running/walking a little over 6 miles), the Little Rock 5K (3.1 miles), the Little Rockers Kids Marathon (26.2 miles completed over an extended time frame for children ages 7-12), and the Classic Rockers Marathon (26.2 miles completed over an extended time frame for individuals over 55).
Those interested can even join a training group for the marathon, half marathon, relay, and 5K races. Cash prizes ranging from $100 to $2,000 are incentives that draw participants from all over the country. Previous contestants include residents of the surrounding states as well as California, Colorado, Connecticut, Florida, Kansas, Maryland, Massachusetts, New Jersey, New Mexico, New York, Oregon, South Carolina, Virginia, and Washington, D.C., among others. Previous runners have come from as far away as Brazil, Canada, and the United Kingdom. Depending on age and the nature of the event, participants must pay between $30 and $95 to enter a race.
The Little Rock Marathon is infamous for large medals that continue to grow each year. According to Maxwell Medals, the producer of the spectacular award (as well as medals for races such as the LaSalle Bank Chicago Marathon), the average medal size is 2 1/2" and weighs a mere 3 ounces. In 2007 the Little Rock Marathon medal was 5 7/8" tall, 4" wide, and weighed a little more than a pound. The medal for 2008 is projected to be even larger.
Many reputable organizations are associated with the Little Rock Marathon. In 2005 the magazine Runner's World highlighted the capital event as giving out "the world's largest finisher's medal." Race chair Larry Choate assures that, "Our medal is one of the biggest costs we have, but if Runner's World keeps telling us we are the biggest, then we want to make sure we stay the biggest." Sixteen thousand dollars in prize money is distributed to race winners, including $2,000 each for the men's and women's top finishers. The Little Rock Marathon is a qualifier for the prestigious Boston Marathon.
Past Little Rock Marathon Champions
MEN
2009 - Augustus Mbusya (2:20.42)
2008 - Tamrat Ayalew (2:24.46)
2007 - Przemek Bodowski (2:27.09)
2006 - Charles Kamindo (2:19.48)
2005 - John Weru (2:24.10)
2004 - Glen Mays (2:34.33)
2003 - Antolie Vartosu (2:36.53)
WOMEN
2009 - Leah Thorvilson (2:44.19)
2008 - Hellen Rotich (2:50.33)
2007 - Maria Cleofe Portilla (2:47.12)
2006 - Claudia Camargo (2:56.48)
2005 - Christy Nielson (2:58.45)
2004 - Patricia Langum (3:17.45)
2003 - Joyce Florance (3:20.23)
2008 Race
According to the official website about 9,000 runners and a crowd of 20,000 well-wishers and support people are expected for the 2008 race. Approximately 1,600 runners will finish the 26.2 mile route. This year the marathon will center around the River Market District, starting at the Clinton Museum Store on President Clinton Avenue and finishing at Riverfront Park. The designer and director of the marathon route since the first race in 2003 is Bill Torrey. Previous races have all started and ended at the Arkansas State Capitol. Beverage stands, medical aid stations, paramedic bike patrols, and portable bathrooms will be available along the course to ensure participant well-being.
Major sponsors of the race include local businesses such as Alltel Wireless, Arkansas Children's Hospital, the Arkansas Democrat Gazette, Arvest Bank, Baptist Health, and Today's THV Channel 11. Co-executive directors of the marathon are Gina Pharis and Geneva Hampton of the Little Rock Department of Parks and Recreation.
References
Doug Crise, "Local Girl Thorvilson Makes Good; Kenyan Men 1-2-3," Arkansas Democrat-Gazette, March 16, 2009.
Pete Perkins, "Changes, of Course, Unfold: River Market Replaces Capitol as Starting Point, Finish of Race," Arkansas Democrat-Gazette," March 1, 2008.
External links