Baptist Health
From FranaWiki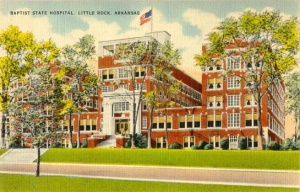 Baptist Health has been serving the people of Arkansas for over 80 years and is the largest not-for-profit healthcare organization in Arkansas. It has five centers: Baptist Health Medical Center in Little Rock, Baptist Health Medical Center in North Little Rock, Baptist Health Rehabilitation Institute, Baptist Health Medical Center in Arkadelphia, and Baptist Health Medical Center in Heber Springs. The Little Rock hospital is the largest institution under the Baptist Health banner and is located at 9601 I-630, Exit 7 in Little Rock.
The Baptist Health Schools in Little Rock run nine programs of study, offering certificates, diplomas, associate degrees, and bachelor's degrees. The Baptist Health Schools was founded in 1921. Baptist Health operates among the largest nursing schools in the nation, offering the RN and LPN degrees. The Health Schools offer associate degree programs in histotechnology, occupational therapy, sleep technology, surgical technology. Bachelor's degrees in radiography, nuclear medicine, and medical technology are offered through partnerships with other universities.
The following is Baptist Health's mission to the community:
Baptist Health exists to provide quality patient-centered services, promote and protect the voluntary not-for-profit healthcare system, provide quality health education and respond to the changing needs of the citizens of Arkansas with Christian compassion and personal concern consistent with our charitable purpose.
For the thirteenth year in a row, BHMC in Little Rock received a "Consumer Choice Award" from the National Research Corporation, recognizing it as one of the "Most Preferred Hospitals." It has also been awarded the title "Best Place to Have a Baby" for three years.
Baptist Health has cutting-edge technology, especially in the areas of cardiac, orthopedic, rehabilitation, gastric bypass, and stroke services. Baptist Health has been recognized for its dedication in providing the best care available.
First in the region to perform surgery using the da Vinci S Surgical Robotic System
First in the state to use eICU care
A leader in oncology treatments
Provides state-of-the-art orthopedic surgical technologies such as computer assisted surgery and minimally invasive surgery
The Baptist Health Rehabilitation Institute is the only hospital in the state to offer Bioness H200, the latest state-of-the-art neuroprosthetic and rehabilitation system
Leader in heart care transplantation with the use of HeartMate devices
The Baptist Health MedFlight is the only air ambulance service that makes flights where a helicopter pad is not available
Baptist Health is also a leader in Women's Health and Infant Care, providing the following high tech services:
Bedside Glucose Monitoring
High Frequency Oscillator Ventilation
INOVENT Nitric Oxide Mixer
Bayer Rapidpoint 405 ABG Machine
Computer Aided Detection for Mammograms
Uterine Artery Embolization
Not only does Baptist Health offer services for those whose health is compromised to the point of admittance into the hospital, but they also are leaders in community outreach, dedicated to health promotion and prevention
P.A.R.K –is an after school and summer program for at-risk youth
Baptist Health Community Wellness Center—offers health promotion and prevention activities to those who are uninsured, underinsured, or medically undeserved.
Baptist Health Community Immunization Program—Gives free immunizations to children in underserved communities, and also offers physicals for preschoolers.
Healthy Children's Initiative—addresses the childhood obesity epidemic and seeks to improve children's health through nutrition and physical activity.
Project Fit—addresses cardiovascular health and lifetime fitness education programs
Type 2-We're On To You—A Diabetes awareness and education program for middle school students.
Sister to Sister: Move More, Eat Better—encourages women to maintain a healthy weight by becoming more physically active and eating healthier.
Southeast Pulaski County Hometown Health Coalition—a program that is dedicated to improving health and the quality of life in the communities of College Station, Hensley, Higgins, Sweet Home, Woodson and Wrightsville.
Baptist Health Mobile Health Unit—provides health screenings, health education and first-aid services.
Groundhog Job Shadow Day—a national program that provides students with the opportunity to shadow a health care professional.
Hispanic Initiative—offers free ESL classes as well as health promotion and prevention activities.
Reading Initiative—promotes reading to children in public schools especially the underserved population.
Community Walking Program—gives the skills and tools needed to both plan and track an individuals daily walking habits.
Meatless Tuesday—A program that followed Meatless Mondays, is an attempt to reduce the consumption of saturated fatty acids in the diet at least one day a week.
Watershed Initiative—offers health screenings and health education programs to an underserved population.
Arkansas Baptist College Initiatives—gives free health assessments, coordinates medical services and other resources to small African American college/student populations.
Baptist Health Community Clinic—located at the First Presbyterian Church in Little Rock, it provides basic healthcare to the homeless population.
Women's Health Initiative—targets uninsured, underinsured, and underserved to provide health education, screenings, and to act as a resource for information.
Senior Health Initiative—provides health screenings and education to seniors.
Men's Health Initiative—health education, screening activities, and literature that is male specific.
Community-Based Prenatal Classes—monthly classes for low income pregnant women.
Baptist Health also makes resources available to the general public online by providing the Baptist Health Wellness Library and Encyclopedia, health calculators, health quizzes and risk assessments, and health tips and recipes.
References
External links