Carnegie Library
From FranaWiki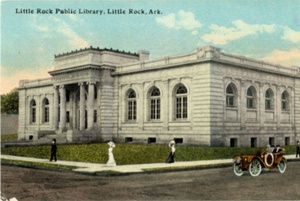 Little Rock's Carnegie Main Public Library once stood at the corner of Seventh and Louisiana streets. The Greek Revival structure, designed by local architect Charles L. Thompson, opened in 1908.
Two important private libraries incorporated into the public library collections came from Uriah M. Rose and physician William E. Green. The Uriah Rose room contained seven thousand volumes, most of them in French. The Green Room was reserved for local Drama League activities as well as meetings of other literary and social club meetings. The Charles H. Brough Room, named for former governor Charles Hillman Brough, contained volumes on the subject of Arkansas. In 1915 the library held 15,901 volumes.
A substantial three-story annex was added to the library in 1939.
The Carnegie Library was bulldozed in 1964 to make way for a Modernist-style public library that today houses an Entergy business data center. The Main Library of the Central Arkansas Library System is now located in the River Market District.
Librarians
References
American Library Annual (Office of the Publishers' Weekly, 1915), 322.
Arkansas Writers' Project, Arkansas: A Guide to the State (Works Progress Administration, 1941), 177.
Bernie Babcock, Yesterday and Today in Arkansas: A Folio of Rare and Interesting Pictures from Mrs. Babcock's Collection for Stories and Legends of Arkansas (Jordan & Foster Printing Co., 1917), n.p.
Ray Hanley, Little Rock (Arcadia Publishing, 2007), 21.
"News from the Field," Public Libraries 23 (1918): 151.
Kane Webb, "Beauty and Blight: Little Rock's Diametrical Downtown," Arkansas Democrat-Gazette October 7, 2007.
External links