Charles Hillman Brough
From FranaWiki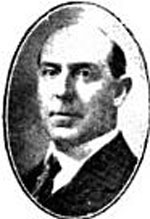 Charles Hillman Brough was Democratic governor of the State of Arkansas from January 10, 1917, to January 11, 1921.
Charles Brough was born in Clinton, Mississippi, to Charles Milton Brough and Flora M. (Thompson) Brough on July 9, 1876. He married Anne Wade Roark on June 17, 1908. Brough was a college professor and a Baptist. He held memberships in the American Economic Association, the American Political Science Association, the Freemasons, the Knights Templar, the Shriners, the Ancient Order of United Workmen, the Elks, and the Knights of Pythias, the Maccabees, the Woodmen, Beta Theta Pi, and Tau Kappa Alpha.
Brough died on December 26, 1935.
References
External links