Main Library
From FranaWiki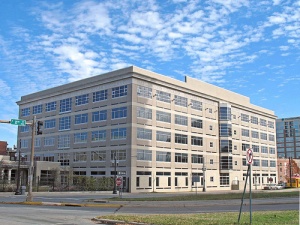 The Main Library, which is located at 100 Rock Street in the River Market District, is so named because it is the largest component of the Central Arkansas Library System. This 132,000-square-feet library has been making thousands of books, periodicals, and audiovisual resources available to people throughout much of Central Arkansas since it opened in 1997. Borrowed items may be returned through any of the system's many branches.
Main Library provides wireless internet, computer courses, and a number meeting rooms to the public. It also houses the Butler Center for Arkansas Studies and the Sturgis Center for Technology Training.
Main Branch History
Main Library is the third main branch building in the history of the Little Rock public library system. The first library, a Carnegie library, was built in 1910 was situated at the corner of 7th & Louisiana streets. Four twenty-foot concrete columns stand in front of the Main Library today. A second main library edifice was added onto the original building in 1964.
The present Main Library building was once the Fones Brothers Warehouse, owned by the Fones Brothers Hardware Company. Renovation of the warehouse was approved by voters in 1993. Its moldings are cast with the names of famous authors, from William Shakespeare to Dr. Seuss, and its small garden courtyard displays an impressive statue depicting the flight of Daedalus and Icarus. Various other displays and works of art can be found throughout the library.
References
Sandra Cox, "[No title]," Arkansas Democrat-Gazette, December 13, 1995.
External links