Witt Stephens Jr. Central Arkansas Nature Center
From FranaWiki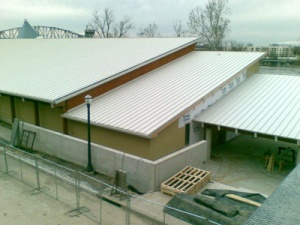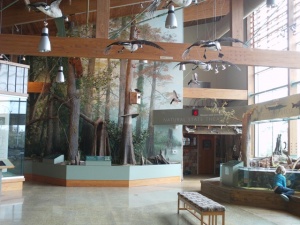 The Witt Stephens Jr. Central Arkansas Nature Center is an interpretive education center operated by the Arkansas Game and Fish Commission. The center is located between the Arkansas River and the Museum Center in the River Market district of downtown Little Rock. The nature center opened on December 17, 2008.
The nature center, named for Arkansas Game and Fish commissioner Witt Stephens Jr., houses an aquarium, exhibit hall, gift shop, and theater. The center features 9,000 gallons of aquarium space for exhibits on Arkansas fisheries. The 16,232 square foot center occupies 3.4 acres of land in Julius Breckling Riverfront Park, acquired from the city under a 99-year lease.
The groundbreaking ceremony for the nature center took place on June 21, 2006. The original plan called for a living roof with native vegetation but was ruled out as impractical and too expensive. The designer of the Central Arkansas Nature Center was Cromwell Architects Engineers.
The director of the nature center is Neil Curry. The education programs director is Marc Kilburn.
The Arkansas Game and Fish Commission operates three other nature centers in Fort Smith, Jonesboro, and Pine Bluff. The final pricetag of the Central Arkansas Nature Center was expected to be $8.3 million, to be paid out of a 0.125 percent state conservation sales tax passed in 1996 as Amendment 75.
References
Bryan Hendricks, "AGFC Opens 4th Nature Center," Arkansas Democrat-Gazette, December 18, 2008.
Kristin Netterstrom, "Nature Center in LR on Track for Fall Debut," Arkansas Democrat-Gazette, March 24, 2008.
External links