William E. Woodruff
From FranaWiki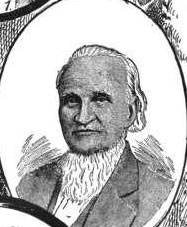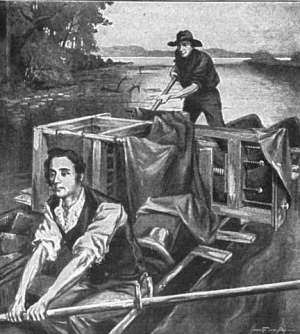 William Edward Woodruff (1795-1885) was founder and longtime publisher of the Arkansas Gazette newspaper in Little Rock, Arkansas.
Woodruff was born on December 24, 1795, at Fire Place, Town of Brookhaven, Suffolk County, Long Island, New York, to Nathaniel Woodruff and Hannah Clarke Woodruff. His paternal grandfather, Jehiel Woodruff, had received a deed to land on Long Island from the King of England. His maternal grandfather was William Clark, a soldier in the American War for Independence and eventually a British prisoner of war on the infamous prison ship Jersey. He learned the printing trade as an indentured apprentice to Suffolk Gazette and Long Island Star publisher Alden Spooner. He entered into the indenture arrangement at age thirteen after the death of his father.
At age twenty-one Woodruff began moving west as a journeyman printer, buying a skiff to float down the Ohio River from Wheeling, West Virginia, to Louisville, Kentucky, and then in quick succession to Russellville, Nashville, and Franklin, Tennessee.
On October 30, 1819, he floated two pirogues containing a press and supplies down the Cumberland, Ohio, and Mississippi to in the newly created Territory of Arkansas and became the territory's first government printer. Woodruff set up shop at Arkansas Post and began printing Arkansas Gazette newspapers on a Ramage press. The first issue was dated November 20, 1819. His first government contract was for the Laws of the Territory of Arkansas published in 1821.
When the territorial government moved to Little Rock in 1821, Woodruff moved his printing operation to the new seat of government.
In 1846 Woodruff established the Arkansas Democrat newspaper in opposition to the Gazette newspaper he had established and then sold. He eventually bought back the Gazette and combined the two newspapers into the Arkansas State Gazette and Democrat.
Woodruff is also known for his efforts to establish the first public lending library in Little Rock, for his work as a land agent and postmaster, and for his ownership of the Little Rock steamboat. His collection of books was destroyed by fire or carried off by Union forces in the seige of Little Rock during the Civil War.
Woodruff married Jane Eliza Mills in 1827. They had eleven children together: Alden Mills (1828-1893), George Watkins (1829-1830), William Edward Jr. (1831-1907), Maria Jane (1833-1918), Harriet Maria (1836-1918), Mary Eliza (1838-1927), Evelina Walton (1840-1927), Francis Clark (1843-1936), Jane Georgine (1845-1935), Lizzie Ashley (1848-1854), and Chester Ashley (1850-1899).
Woodruff died on June 19, 1885, and is buried in Mount Holly Cemetery. Woodruff County in the northeastern part of the state is named in his honor.
References
The Arkansas Post Gazette: Newsletter of the Arkansas Post National Memorial, 2.2 (April-June 2001): 6.
John Hugh Reynolds, Makers of Arkansas History (Silver, Burdett and Company, 1905), 112-119.
External links