Arkansas Gazette
From FranaWiki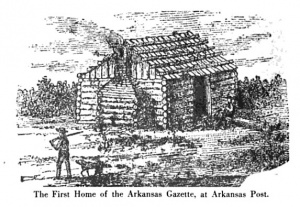 The Arkansas Gazette was established by New York newspaperman William E. Woodruff on November 20, 1819. Woodruff began publishing the paper at Arkansas Post with a screw press purchased in Franklin, Tennessee, and floated up the Arkansas River by pirogue. The last issue at Arkansas Post was published on November 29, 1821.
In December 1821 Woodruff moved his press up the Arkansas River to Little Rock. Woodruff remained the official printer of the state government until 1833, when the Arkansas Advocate took over the contract.
The Gazette installed the first typesetting machine in Arkansas in 1894.
The Gazette was the oldest continuously published newspaper in the country until its sale to the Arkansas Democrat on October 18, 1991.
References
Frederick William Allsopp, History of the Arkansas Press for a Hundred Years and More (Parke-Harper Publishing, 1922), 19, 23, 42-48.
Ira Don Richards, Story of a Rivertown: Little Rock in the Nineteenth Century (1969), 12.
Paulette Walker and Alan Paulson, Historic Pulaski County: Arkansas (Arcadia Publishing, 1999), 8.
External links