War Memorial Amusement Park
From FranaWiki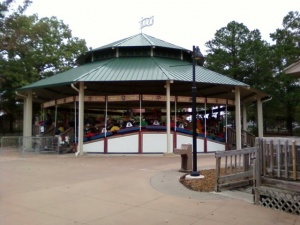 War Memorial Amusement Park was once located in Fair Park (now park of War Memorial Park) in Little Rock, Arkansas. The park had bumper cars, a haunted mansion, the talking doll Old Loveable Sally, a Tilt-A-Whirl, and Over the Jumps Carousel. The amusement park closed in the early 1990s.
Over the Jumps Carousel has been restored and is housed at the Little Rock Zoo. The carousel is on the National Register of Historic Places. A replica of Old Sally is located in the foyer of the Loca Luna restaurant at 3519 Old Cantrell Road.
In the 1950s the park was operated by former carnival operator Tom Fuzzell.
References
"Disk Jockey Pole Sitter Aids Park," Billboard, July 23, 1955.
External links