Spillman Engineering Over the Jumps Carousel
From FranaWiki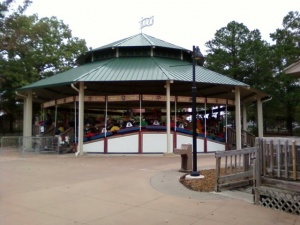 The Spillman Engineering Over the Jumps Carousel (also known as the Herschell-Spillman Carousel) is located on the grounds of the Little Rock Zoo in Little Rock, Arkansas. The carousel was originally erected 1924 on the State Fair midway at War Memorial Park, and is made of wood and cast iron. The carousel was manufactured by Herschell & Spillman Company of North Tonawanda, New York.
The carousel was extensively renovated with the assistance of a group called Friends of the Carousel and moved to its present location around 2008. A time capsule was at this time inserted in one of the horses. The restoration effort was led by Becky Witsell, Rick Parker, and Bob Pennick.
Over the Jumps is considered the only surviving carousel in the world that produces a waving motion for riders. It is also the only surviving wooden track carousel made by Spillman Engineering. The carousel is listed in the National Register of Historic Places.
References
Linda Caillouet, "Paper Trails," Arkansas Democrat-Gazette, September 29, 2010.
External links