Uriah Rose
From FranaWiki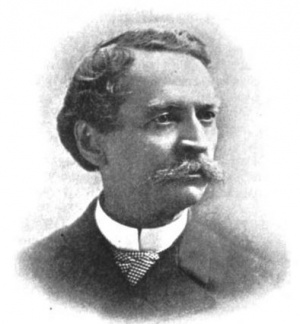 Uriah Milton Rose (1834-1913) was a leading Little Rock, Arkansas, attorney, president of the Arkansas Bar Association, and founding member of the American Bar Association. He was also publisher of Rose's Digest of Arkansas Reports. The Rose Law Firm in Little Rock continues to bear his name today.
Rose, born on March 5, 1834, was the fourth child of physician Joseph Rose and Nancy (Simpson) Rose of Marion County, Kentucky. He studied law privately in Lebanon with R. H. Rowntree, later graduating from Lexington's Transylvania Law School in 1853. That same year he married Margaret T. Gibbs. Between December 1, 1853, and 1860 he practiced law in Batesville, Arkansas. He married Margaret T. Gibbs on October 25, 1853.
Governor Elias Conway appointed Rose chancellor of Pulaski County's Chancery Court in 1860, which caused his relocating to Little Rock for the duration of the Civil War. In 1865 he joined with former Arkansas Chief Justice George C. Watkins to form the office of Watkins and Rose. Watkins died in 1872.
In May 1874 he argued for the side of Elisha Baxter in the infamous Brooks-Baxter War over the Arkansas Governor's Office. George B. Rose, who would become a notable writer, joined his father as a lawyer in the firm of U. M. & G. B. Rose in 1881. Rose served as U.S. representative to the Second Peace Conference at The Hague in 1907. He died on August 12, 1913. He is interred in Oakland Cemetery. A statue of Uriah Rose is located in the U.S. Capitol's Statuary Hall in Washington, D.C.
References
Goodspeed's History of Pulaski County, Arkansas (1889).
U. M. Rose, "Chester Ashley," in Publications of the Arkansas Historical Association, vol. 3 (Fayetteville, AR: Arkansas Historical Association, 1911), 47-73.
External links