Elisha Baxter
From FranaWiki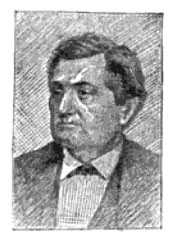 Elisha Baxter was the tenth governor of the State of Arkansas, serving from January 6, 1873, to November 12, 1874.
Baxter was born in rural Rutherford County, North Carolina, to farmer William Baxter on September 1, 1827. He moved into the state of Arkansas in 1852, settling in Batesville. In 1853 he opened a store. It failed within three years. While working as a printer he studied law and was admitted to the Arkansas bar in 1856.
Baxter was elected to the state legislature in both 1854 and 1858. During the Civil War he attempted to remain neutral, but was imprisoned for treason in Little Rock. He escaped and joined federal troops to the north. The Union gave Baxter leave to raise the 4th Arkansas Mounted Infantry. In 1864 he was appointed Chief Justice of Arkansas. Though soon thereafter elected to the U.S. Senate, he was not seated. In 1868 he became a circuit judge for the Third District of Arkansas and Register of the U.S. Bankruptcy Court.
Baxter became one of the two protagonists in the infamous Brooks-Baxter War in 1872. In that year Baxter faced rival Republican Joseph Brooks in the race for the governorship. Baxter was elected and inaugurated on January 6, 1873, but found himself in U.S. Circuit Court accused of fraud by Brooks and a coalition of party representatives. Baxter was eventually exonerated by President U.S. Grant, but lost his seat in November 1874 when a convention drew up a new state constitution.
Baxter retired to farming, failing in one last bid for a U.S. Senate seat in 1878. He died on June 2, 1899, in Batesville.
References
The National Cyclopaedia of American Biography: Being the History of the United States as Illustrated in the Lives of the Founders, Builders, and Defenders of the Republic, vol. 10 (J.T. White, 1900), 189.
External links