Saline County
From FranaWiki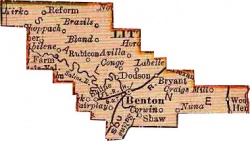 Saline County is named for large geologic salt formations found within the county borders. The county was formed in 1835 from portions of Hempstead and Pulaski counties. Neighboring counties include Pulaski County, Grant County, Hot Springs County, Garland County, and Perry County.
History
Saline County was established on November 2, 1835. The county is famous for its rich mineral resources. Early salt works in the county supplied the precious mineral to places throughout the mid-south. Bauxite was discovered in 1887.
Geography
Saline County, 725 square miles in size, is generally hilly and forested. The northwest corner of the county is managed by the U.S. Forest Service. Lake Winona is located on Ouachita National Forest land. Several branches of the Saline River flows through the county.
Transportation infrastructure
Interstate 30 passes through the county from the northeast to the southwest. Arkansas Highway 9 enters the county at the northern border, and passes through Paron before dead-ending at Arkansas Highway 5 in Crows.
Economy
The mineral resources of Saline County have long been important to the economy of the county. Salt exports were superseded in commodity value by bauxite. About 97 percent of the bauxite in the country was at one time mined in Saline County. Bauxite is used to make aluminum.
The largest employers in the county are the Bryant Public School District, Wal-Mart, the State of Arkansas, Saline Memorial Hospital, Benton Public School District, Landers Automotive, Birch Tree Communities, Rineco Chemical, CoorsTek, Rivendell Behavioral Health, Almatis, Sonic Drive-In, RGIS Inventory Specialist, Timber Ridge Ranch Neurorehab, and the Alexander Youth Service Center.
Law, government, and politics
The county judge is Lanny Fite. The county seat of Saline County is Benton. The Benton County Courthouse was used in the filming of parts of the 1972 film White Lightning starring Burt Reynolds.
Education
Saline County has five high schools: Bauxite High School (Bauxite), Benton High School (Benton), Bryant High School (Bryant), Harmony Grove High School (Benton), and Paron High School (Paron).
Religion
Places of interest
The Gann Museum of Saline County is constructed from bauxite boulders and contains exhibits on county history.
Demographics
According to the 2000 U.S. Census Bureau the population of the county was 83,529.
1980 - 53,088
1990 - 64,183
2000 - 83,529
2005 - 91,188
Communities
Saline County has a number of incorporated cities within its boundaries: Benton, Bryant, and Haskell. Incorporated towns in the county are Alexander, Bauxite, Traskwood, and Tull.
Other populated places in Saline County:
Altharp (historical)
Alum (historical)
Avilla
Bauxite Junction
Bland
Blocher
Brooks
Brooks (historical)
Bryant Oaks
Careywood
Cold Springs (historical)
Collegeville
Congo
Crows
Cunningham (historical)
Curtis (historical)
Detonti
Dirtdauber (historical)
East End
Edgewood
Electric (historical)
Evergreen
Fairplay (historical)
Gibbons (historical)
Goodman
Grape
Hurricane (historical)
Kentucky
Klondike (historical)
Lakeside
Lena
Lignite
Nance
Opitz (historical)
Owensville
Paron
Pine Haven
Raintree Acres
Reform
Richardson Place
Rubicon
Salem
Sardis
Shannon Hills
Shaw
Sherwood Estates
Slocomb (historical)
Springhill
Tatumville (historical)
Twin Oaks
Vimy Ridge
Whitlock (historical)
Woodland (historical)
Woodland Hills
References
External links