Hernando de Soto
From FranaWiki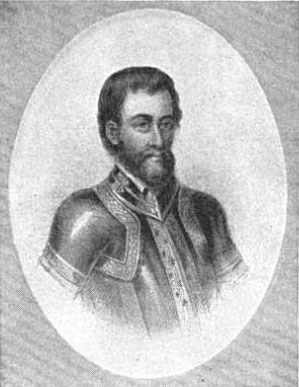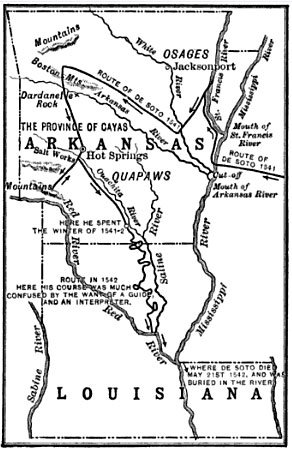 Hernando de Soto was a Spanish explorer and the first European to enter what is now the state of Arkansas. De Soto reached the Mississippi River opposite Arkansas in May 1541. He constructed rafts to cross the river near the mouth of the White River. He spent the rest of the year in what is now Arkansas. He visited the watershed of the St. Francis River, then crossed the state in a southwesterly direction until he reached the Arkansas River.
He engaged in battle against hostile native tribes near present-day Jacksonport, then turned north. Wandering in the northwestern part of the state looking for gold, he eventually turned south and crossed the Boston Mountains. He reemerged in the Arkansas River valley and crossed the river near Dardanelle Rock. He was led to a "lake of very hot water" by local Indians, which is now interpreted as Hot Springs. He also observed a native tribe making salt on the Ouachita River. He made his winter camp for 1541-1542 on the Ouachita River near the state's southern boundary.
In the spring he traveled with his group down the Ouachita and Saline rivers down to the Mississippi River in Louisiana, where he died at the Indian village of Guachoya on May 21, 1542.
References
John Hugh Reynolds, Makers of Arkansas History (Silver, Burdett and Company, 1905), 11-19.
External links