Free Bridge
From FranaWiki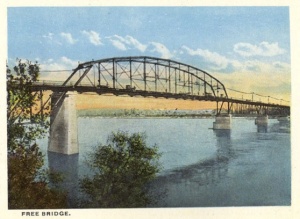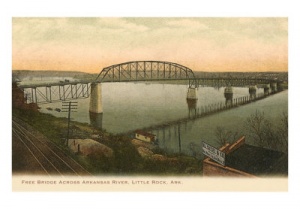 The Free Bridge over the Arkansas River in Little Rock-North Little Rock opened on July 4, 1897. The through truss bridge connected Main Street in Little Rock with Maple Street in North Little Rock.
The Free Bridge was the third bridge over the river in the city after the Baring Cross Bridge and the Junction Bridge, and the first pedestrian and wagon bridge. The bridge got its name because there was no toll for passage across the river here from one bank to the other. The Free Bridge was built by the Pulaski County government.
The bridge crossed the river at about the location of the present Main Street Bridge.
References
"Bridge to Be Dedicated in Little Rock," Forrest City Times, June 11, 1897.
Ray Hanley, Little Rock (Arcadia Publishing, 2006), 30-31.
Dallas Tabor Herndon, Centennial History of Arkansas (Southern Historical Press, 1922), 842.
External links