Conway
From FranaWiki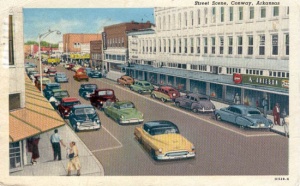 Conway is the seat of Faulkner County, Arkansas. The incorporated city of Conway is located in the southwestern part of the county, just east of the Arkansas River. Interstate 40 wraps around the city to the north and east. The city is served by I-40 interchanges 124, 125, 127, and 129. Several highways pass through Conway, including U.S. Highway 64, U.S. Highway 65, Arkansas Highway 25, Arkansas Highway 266, Arkansas Highway 60, Arkansas Highway 286, and Arkansas Highway 365. The Union Pacific Railroad also passes through the city. The city is served by the Conway Municipal Airport.
Climate
The average January temperature is 53 degrees. The average July temperature is 94 degrees. Average annual precipitation is 49 inches of rain and six inches of snow.
Government
The Faulkner County Courthouse is located at the intersection of Caldwell and Locusts streets downtown. Conway City Hall is located at the intersection of Front and Oak streets.
Commerce and Industry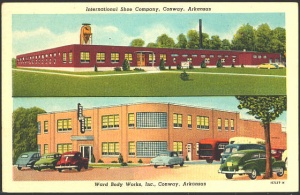 The downtown area of Conway is quaint and pleasant. Conway has at least two post offices. There is a wide variety of restaurants to choose from in Conway. There are of course, fast food places like Wendy's, Sonic Drive-In, and McDonald's. There are also places like Chili's Grill & Bar and Cracker Barrel. A favorite among some college students is Stoby's, located on Donaghey Avenue. Stoby's is known among some for their delicious cheese dip. There are two movie theaters in Conway. The Conway Commons offers excellent shopping. Stores such as TJ Max, Target, and Kohl's, provide a good shopping experience.
Other notable local businesses:
Education
Conway is known as the "City of Colleges." The city hosts three institutions of higher learning: Hendrix College (founded in 1890), Central Baptist College (1892), and the University of Central Arkansas (1907). The area is also served by the Conway Public School District, St. Joseph School, and Conway Christian School.
The Conway Human Development Center on Siebenmorgen Road on the northeast side of the city is a residential facility for developmentally disabled people.
Healthcare
The city is home to the Conway Regional Medical Center.
Recreation
Two city parks are Laurel Park and Gatling Park. The Faulkner County Fairgrounds are on Robins Street on the south-central side of Conway.
History
Conway's history dates to an 1871 decision to route the Little Rock and Fort Smith Railroad through Cadron Gap. The path through Cadron Gap and the Arkansas River to the west formed a natural choke point funneling traffic into the area from the north and west. The railroad's chief engineer Colonel A. P. Robinson received one square mile of land south of the gap, extending south roughly from what is today Prince Street to Dave Ward Drive. Robinson reserved the northeast corner of his property for the establishment of a town site, and the southern half as a private game reserve. He drove a stake in the ground at the place where Conway Station was to be constructed. A post office was built at Cadron Gap, but later transferred to Conway Station in 1872.
Conway was named and became the county seat of Faulkner County in 1873. P. H. Prince described the town in that year as follows: "There were two small stores and two saloons, a depot, a few temporary houses to live in and a post office. At the time there was not a single woman in or around Conway." The town was incorporated on October 5, 1875. Robinson personally pledged land for the courthouse square, and several local churches.
By the 1880s the town was served by two hotels near the train depot, Farrow House and Crosby House. The most notable saloon was owned by Ed Dunlap. Local physicians of the decade were A. Davis, A. C. Hoss, G. S. Brown, J. F. Kinchloe, and G. D. Dickerson. Law firms included those of Bowen and Bolton, Bruce and Cox, Harrod and Harrod, L. C. Lincoln, P. H. Prince, and G. W. Rice. General stores included M. and J. Frauenthal and Co., W. D. Cole, Grizzard and Gist, J. S. Jones, Van Ronkle, and J. N. Walton and Co.. Hardware, tinware, and famr implements were sold at Burton and Townsend. The town blacksmiths were A. Lachowsky and Sam Clifton. Pharmaceutical preparations were sold by druggists Davis and Hoss and A. R. Witt. Boots and shoes were made by J. Farar. M. Groves was a jeweler and sewing machine agent. Glenn and Ray, J. E. Martin and Co., Sneed and Co., Jesse Witt, and J.N. Walton and Co. sold groceries and other dry goods. A restaurant and confectionary operated under Jake Heiligers. Hilliard and Co. operated a planing mill and sold furniture. The editor of the Log Cabin newspaper was A. F. Livingston. Markham and Simmons operated a livery and feed store. The undertaker was J. A. Pence, who also made cabinetry. There was also the Rapier photography gallery downtown on Front Street, and a barber by the name of V. Yaeger on Oak Street. The town butcher shop was Sam Raburn's City Meat Shop. The local bakery operated under Frank Menton.
Demographics
Population:
1880 - 1,017
1890 - 1,207
1900 - 2,003
1910 - 2,794
1920 - 4,564
1930 - 5,534
1940 - 5,782
1950 - 8,610
1960 - 9,791
1970 - 15,510
1980 - 20,375
1990 - 26,481
2000 - 43,167
2005 (special census) - 52,262
Geography and Geology
Conway sits at an average elevation of 312 feet.
References
Edith White, "Early Conway," Faulkner Facts and Fiddlings 5.4 (December 1963): 13-16.
Ted R. Worley, "Notes on the Early History of Conway," Faulkner Facts and Fiddlings 5.4 (December 1963): 3-12.
External links