William E. "Bill" Clark Presidential Park Wetlands
From FranaWiki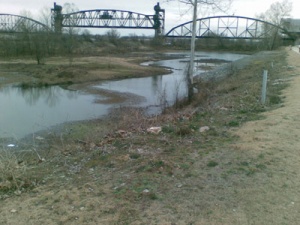 The William E. "Bill" Clark Presidential Park Wetlands involves a wetlands restoration effort on 13 acres of land near the Clinton Presidential Library on the Arkansas River. The restoration is sponsored by The Conservation Fund, The Nature Conservancy and the William J. Clinton Foundation as well as Audubon Arkansas, the Arkansas Game and Fish Commission, the Arkansas Natural Heritage Commission, the U.S. Army Corps of Engineers, the University of Arkansas Clinton School of Public Service, the City Parks Conservancy, and the City of Little Rock.
William E. "Bill" Clark was founder of contractor and commercial construction company CDI. CDI is builder of both the Clinton Library and the Heifer International headquarters. Clark is described as an avid outdoorsman who "spent many sunrises and sunsets overlooking the Arkansas River and wetlands, enjoying nature."
The wetland area was first proposed as an "urban fishing ground" in plans by the Polshek Partnership, architects of the Clinton Library.
References
External links
Bill Clark Wetlands page at the Little Rock City Manager's website