White City
From FranaWiki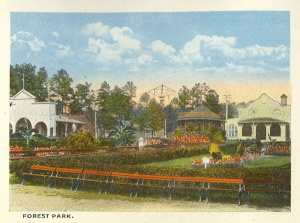 White City was an amusement park located inside Forest Park, a former suburban recreational area located at the western terminus of the Pulaski Heights Line operated by the Little Rock Street Railway and Electric Company.
Origins of Forest Park and White City
Forest Park was established by the Street Railway and Electric Company in 1904. Improvements to the "trolley park" were inspired by the white stucco and electrified amusements of the 1893 World's Columbian Exposition in Chicago and Luna Park at the 1901 Pan-American Exposition in New York City.
The White City Amusement Company, incorporated on September 6, 1907, managed and maintained the park. Over time the park gained a 1,500 seat auditorium, pavilion, zoo, carousel, and fun house. Child visitors took free rides in goat carts or went roller skating. In the summertime the Forest Park Theater put on performances of various shows, even attracting Sarah Bernhardt to perform in Camille. The park became the site of the Pulaski County Fair around 1913. In 1916 the fair departed for Fair Park, now known as War Memorial Park.
White City purchased Forest Park outright in 1921. The company built a new swimming pool where the Heights Theater now stands around this time.
Decline
The pool was taken over by the Little Rock Recreation Commission in 1934 and remodeled, but within five years was torn out. The park declined in popularity as the automobile brought more distant attractions within reach. In 1941 the former site of White City was converted into a residential neighborhood of single-family detached homes in Hillcrest.
The local chapter of the Lions Club today operates a small amusement park, called Funland, across the river in North Little Rock's Burns Park. The park - in continuous operation since 1946 - features a carousel, tilt-a-whirl, and miniature train.
References
Arkansas Writers' Project, Arkansas: A Guide to the State (Works Progress Administration, 1941), 172.
Jerry Dean, "In Early Days, Hillcrest was 'Way Out West,'" Arkansas Democrat-Gazette, June 15, 1989.
Report of the Arkansas Office of the Secretary of State (1909), 335.
External links