University Mall
From FranaWiki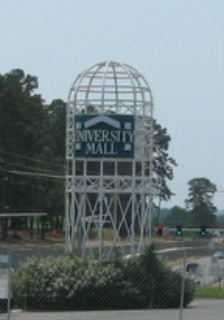 University Mall was the first enclosed shopping mall in the Little Rock metropolitan area. University Mall opened in November 1967 and was razed in 2008. It was located at 300 South University Avenue near the corner of Markham and University, across the street from the St. Vincent Infirmary Medical Center. University Mall was originally known simply as "The Mall."
The developer of the mall was Melvin Simon & Associates of Indianapolis, Indiana, which owned forty shopping centers elsewhere in the country. Local landowners and part-owners in the mall were attorney William J. Smith and John Cella. Smith and Cella acquired twenty-eight acres of land for the mall, which originally included a cemetery since relocated.
University Mall contained 1.3 million square feet of retail and warehouse space for lease to tenants, and space for parking two thousand five hundred cars. M. M. Cohn, Montgomery Ward, and J. C. Penney were original anchor stores. These anchors were joined by thirty to forty other shops.
The mall was substantially renovated in 1975 and again in 1987. During the second renovation the mall acquired a nine-story Teflon-coated tent covering the new main concourse. University Mall was challenged by other new retail development in the area, especially the expanded and enclosed Park Plaza Shopping Center across Markham Street to the north. In 2001 Montgomery Ward went bankrupt and closed its mall facility. That year only sixty percent of all mall retail space was occupied by tenants. University Mall was closed on October 27, 2007, and demolished between December 2007 and March 2008 to make way for the Park Avenue mixed-use retail and residential development. Park Avenue is expected to open in 2009.
Directory of Former Occupants
A A R P
Afterthoughts
Airbrush by Gage
Champs Sports
Country Bumpkin - Handmade country crafts
Custom USA
Dollar Tree
Finish Line
Foot Locker
Frostop
GNC
Gold Empire
Gold n Diamonds
GQ for Men
Greg's Store for Men
J.C. Penney
J.C. Penney Optical
J.C. Penney Salon
Life Uniform
Marcello's Apparel
Milano Menswear
Millenium
Nouri
One Price Clothing
Paul's Shoes
Payless Shoe Source
Rave
Rodella Candies
Sbarro
Scribbles Embroidery
Shanghai Express
Simply Fashions
The Shoe Department
The Stitching Post
Trevors
U. S. Army Recruiters
U. S. Marine Recruiters
U. S. Navy Recruiters
Unity Center of Truth
Zale's Jewelers
References
External links