J. C. Penney
From FranaWiki
J.C. Penney is a retail chain with stores in Arkansas. In 2009 J.C. Penney had four stores in central Arkansas: McCain Mall in North Little Rock, at Shackleford Crossing in west Little Rock, the Benton Clothing Store in Benton, and at Conway Towne Center, in Conway.
Penney's local history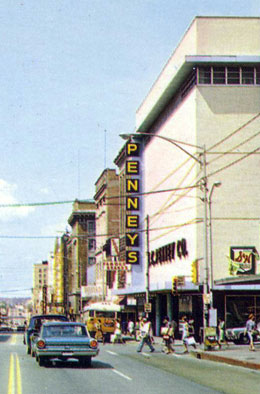 J. C. Penney occupied frontage at 1109-1111 Oak Street in Conway since at least the 1930s. The J. C. Penney Department Store was a prominent downtown Little Rock retailer located at 505-517 Main Street from at least the 1950s to the early 1980s.
In November 1967 J. C. Penney opened its largest department store in the state at the now razed University Mall on University Avenue.
References
Mike Trimble, "30 Years Create Downtown Differences," Arkansas Gazette, May 2, 1982.
External links