MacArthur Museum of Arkansas Military History
From FranaWiki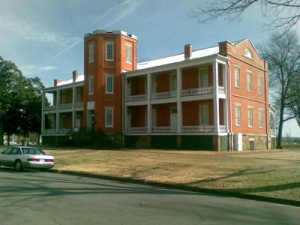 The MacArthur Museum of Arkansas Military History is a museum featuring the state's military heritage through exhibits and artifacts. The museum is located in the Tower Building of the Little Rock Arsenal. It was incorporated into the Tower Building in 2001 after the completion of a two year long renovation following a devastating 1999 tornado.
Displays in the museum cover the local history of the Arsenal in the Civil War, the Korean War, the Boy Scouts of America, Army General Douglas MacArthur, and the history of the Little Rock Aesthetic Club.
The MacArthur Museum is operated by the Department of Parks and Recreation of the City of Little Rock. Visitor hours are Tuesday through Saturday from 10 AM to 4 PM and Sunday from 1 PM to 4 PM. The museum is located at 503 East 9th Street in historic MacArthur Park. Admission is free.
References
External links