Little Rock Department of Parks and Recreation
From FranaWiki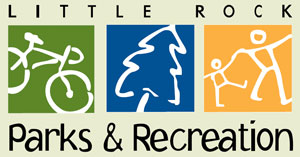 The Little Rock Department of Parks and Recreation is an operational unit of the City of Little Rock. Little Rock Parks & Rec maintains more than 5,000 acres of parkland in the city, comprising fifty-two individual parks. The current director of the Department of Parks and Recreation is Truman Tolefree.
Some of the most popular parks in the city are Allsopp Park, MacArthur Park, Murray Park, and Riverfront Park. Parks & Rec also maintains six indoor recreation centers in the city and three golf courses. Other facilities operated under the direction of the division are the MacArthur Museum of Arkansas Military History, Rebsamen Tennis Center, the River Market, and Arkansas River Trail. The Department also has a large Division of Urban Forestry under the management of Peter Rausch.
Citizens can assist in the maintenance of Little Rock parks by participating in the Adopt-a-Park program. Adopt-a-Park is managed by Phoebe Stephens.
Community Centers
References
External links