Kempner Brothers Shoe Store
From FranaWiki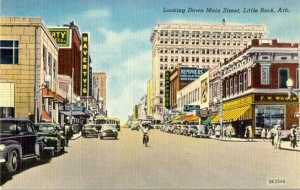 The Kempner Brothers Shoe Store once occupied frontage at 416-420 Main Street in downtown Little Rock, Arkansas. The store was established by merchant and Jewish leader Ike Kempner.
In the 1940s the store was run by Jimmy Kempner and three older brothers. In that decade the first floor was the shoe department; on the second floor space was leased to another business selling women's dresses and men's suit coats.
One employee in the 1940s was Ruth Andrews Keopple. One employee in the 1950s was Josie Parks Goheen. In the 1950s the store had a cosmetics department.
Former governor Orval Faubus and his wife used to shop at Kempner's.
The Kempner Brothers Shoe Store burned to the ground in 1916. The present Kempner Building (currently being demolished in 2009) was rebuilt on the site the same year.
References
Linda Caillouet, "Main Street Razing Spurs Memories," Arkansas Democrat-Gazette, April 1, 2009.
Carolyn Gray LeMaster, "A Corner of the Tapestry: A History of the Jewish Experience in Arkansas, 1820s-1990s," (Fayetteville: University of Arkansas Pres, 1994), 113.
Kristin Netterstrom, "LR City Director Calls for Halt to Downtown Demolition," Arkansas Democrat-Gazette, February 11, 2009.
External links