Orval Faubus
From FranaWiki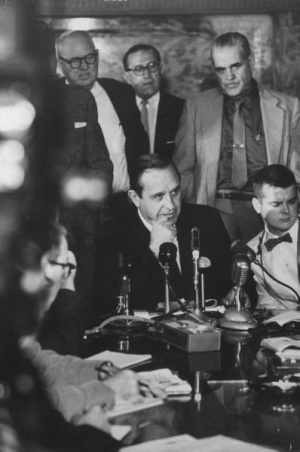 Orval Eugene Faubus (1910-1994) served six terms as Governor of the State of Arkansas, from 1955 to 1967.
In 1957 Faubus sponsored successful legislation that increased the severance tax on minerals, increased the state sales tax by one cent, and replacing the personal exemption on state income taxes with a tax credit. The legislation led to a forty percent increase in state funding for education.
In the fall of 1957 Faubus received national attention for opposing the integration of Little Rock's Central High School with the National Guard, in violation of Brown v. Board of Education (1954).
Faubus was born in Combs, Arkansas. He retired to a mansion outside Huntsville, Arkansas.
References
Wiley A. Branton, "Little Rock Revisited: Desegregation to Resegregation," Journal of Negro Education 52.3 (1983): 250-269.
Jerry Dean, "'Best Loved and Most Hated': Faubus Outlived Animosity," Arkansas Democrat-Gazette, December 15, 1994.
Orval Eugene Faubus, Down from the Hills (Little Rock, AR: Democrat Printing & Lithographing, 1980).
Billy Hathorn, "Friendly Rivalry: Winthrop Rockefeller Challenges Orval Faubus in 1964," Arkansas Historical Quarterly, 53.4 (1993): 446-473.
Roy Reed, Faubus: An American Prodigal (Fayetteville: University of Arkansas Press, 1997).
Roy Reed, "Orval E. Faubus: Out of Socialism into Realism," Arkansas Historical Quarterly, 54.1 (1995): 13-29.
External links