Kempner Building
From FranaWiki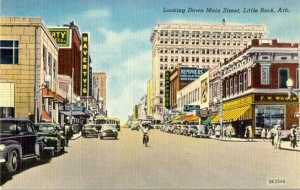 The Kempner Building is a historic structure on Main Street in Little Rock. The building stands at 416-420 Main Street. The building housed Kempner Brothers Shoe Store.
The original Kempner Building was destroyed by a fire in 1916. The present structure, being demolished in 2009, was built the same year.
References
Carolyn Gray LeMaster, "A Corner of the Tapestry: A History of the Jewish Experience in Arkansas, 1820s-1990s," (Fayetteville: University of Arkansas Pres, 1994), 113.
Kristin Netterstrom, "LR City Director Calls for Halt to Downtown Demolition," Arkansas Democrat-Gazette, February 11, 2009.
External links