James Miller
From FranaWiki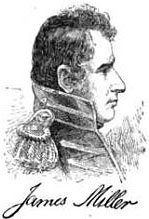 James Miller was the first governor of the Arkansas Territory, from 1819 to 1825. He was appointed by President James Monroe.
Miller was born in Peterboro, New Hampshire, on April 25, 1776. He received training as a lawyer before entering the U.S. Army in 1808. Miller fought the British at the Battle of Brownstown, the Battle of Chippewa, and the Battle of Lundy's Lane in the War of 1812.
Miller opened the first session of the territorial legislature at Arkansas Post on February 7, 1820, and supervised the move of the capitol to Little Rock on October 24. Miller established a home for himself at Crystal Hill thirteen miles upstream from the city. The day-to-day affairs of governing the territory were largely left to his appointed secretary Robert Crittenden. Miller resigned in 1825 and became the tax collector for the port of Salem, Massachusetts.
Miller died in Temple, New Hampshire, on July 7, 1851.
References
The National Cyclopaedia of American Biography: Being the History of the United States as Illustrated in the Lives of the Founders, Builders, and Defenders of the Republic, vol. 10 (J.T. White, 1900), 183.
John Hugh Reynolds, Makers of Arkansas History (Silver, Burdett and Company, 1905), 89-91.
External links