Territory of Arkansas
From FranaWiki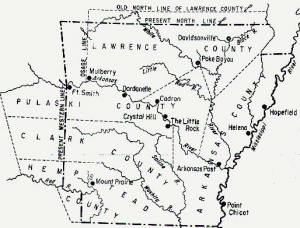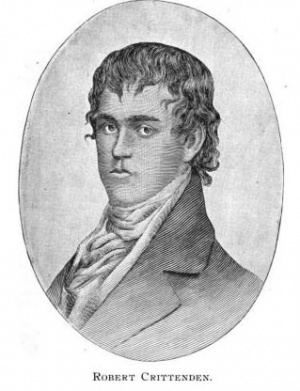 The Territory of Arkansas was designated by the U.S. Congress in 1819, when an area roughly shaped like the present State of Arkansas was cleaved away from the Territory of Missouri. Robert Crittenden was appointed the first secretary and acting governor of Arkansas Territory that same year by President Monroe.
Arkansas Post was originally established as the seat of territorial government. Crittenden convened the first territorial legislature in Arkansas Post, a one house assembly composed of four people: Crittenden, Charles Jouett, Robert P. Letcher, and Andrew Scott. In seven days this first legislature adopted all of the laws of the Missouri Territory. The first legislature created two circuit courts for the Arkansas Territory, an office of auditor and one for treasury.
James Miller, also appointed by President Monroe, was the first governor of the Arkansas Territory. Miller opened the first session of the territorial legislature at Arkansas Post on February 7, 1820, and supervised the move of the capitol west to Little Rock on October 24. The day-to-day affairs of governing the territory were largely left to Crittenden, who retired in 1829.
Arkansas was admitted to the Union on June 15, 1836. It was the twenty-fifth state to join the Union. Arkansas' admission to the United States is enshrined in the Constitution of 1836.
References
The National Cyclopaedia of American Biography: Being the History of the United States as Illustrated in the Lives of the Founders, Builders, and Defenders of the Republic, vol. 10 (J.T. White, 1900), 183.
John Hugh Reynolds, Makers of Arkansas History (Silver, Burdett and Company, 1905), 80-86, 89-91.
External links