Hargreaves Associates
From FranaWiki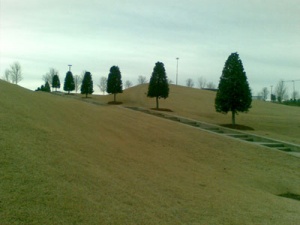 Hargreaves Associates is the landscape architectural firm headquartered in San Francisco, New York City, Cambridge, Massachusetts, and London, England. The firm planned the grounds surrounding the Clinton Presidential Center. The senior principal of Hargreaves Associates is George Hargreaves.
Hargreaves' firm redesigned twenty-eight acres of commercial brownfield at the Clinton Library site. The most distinctive feature of the grounds are several gigantic grassy polygonal mounds between the library and the I-30 ramp over the Arkansas River. The firm also created spaces for a festival grove of trees native to Arkansas, a contemplative grove that might one day house the Clinton burial site, a Scholar's Garden between Sturgis Hall and the Clinton Library Archives building, and a welcoming Celebration Circle in front of the main entryway to Clinton Library museum exhibits.
Two planned but as-yet unimplemented aspects of the Hargreaves site design are the Clinton Presidential Center Play Area and the William E. "Bill" Clark Presidential Park Wetlands.
References
Julia Czerniak and George Hargreaves, eds., Large Parks (New York, NY: Princeton Architectural Press, 2007).
Benjamin Forgey, "Clinton Library Builds Bridges: Complex Connects and Transforms a Little Rock Wasteland," Washington Post, November 27, 2004.
External links