Gus Blass Department Store
From FranaWiki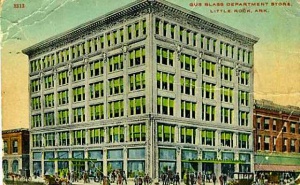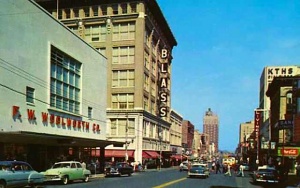 The Gus Blass Company Department Store was founded by Gus Blass and Max Heiman near Little Rock's eastern steamboat landing in 1871, and within a few years occupied several storefronts on the 300 block of Main Street, including 307-309-311, which held its wholesale operation. Fire swept the block sometime after 1900.
The extant building at 310-324 Main Street was designed in the style of Lewis Sullivan by architect George R. Mann and constructed in 1912-1913. It is considered one of the city's first true skyscrapers. A fire damaged the facade in 1916. A Candy Kitchen operated inside the building. The even side of the 300 block of Main also held a U.S. Post Office, the Rose Building, and the offices of optometrist Ralph Hannah.
Gus Blass died in 1919 and control of the store fell to his son Julian Blass. Julian Blass remained president until his death in 1939. Thereupon Noland Blass Sr. became store president, retiring in 1950. In that year Hugo Heiman became president of the company. When Heiman became board chairman in 1960, Julian Blass Jr. became store president.
In 1959 or 1960 two Philander Smith College students, Thomas B. Robinson and Frank James Lupper, staged a sit-in demonstration in the mezzanine tearoom, the department store's segregated lunch counter.
The stores in Little Rock and Pine Bluff were purchased in February 1964 by William T. Dillard and a group of investors, including Raymond Rebsamen, C. Hamilton Moses, Dave Grunsfest, Jack East Sr., Paul M. Leird, John Collins, Leonard F. Levy, E. Ray Kemp, Jack East Jr., W. H. Bransford, Gus Blass II, C. A. Woolsey, Robert M. Goff, Phillip G. Back, and Max A. Heiman. Chairman Hugo Heiman resigned under the terms of the sale.
Violating a longstanding agreement among downtown businessmen, Dillard opened a Blass branch store in the new Park Plaza Mall on University Avenue.
The store chain was renamed Pfeifer-Blass in 1967 in a merger with nearby department store Pfeifer's. Six Arkansas stores would eventually operate under the hyphenated name.
Dillard closed the downtown Blass location in August 1972. Local newspapers decried the event as signaling the end of downtown shopping in the city. McCain Mall opened in suburban North Little Rock one week after the closing of the Blass store.
References
The Afro American, July 30, 1960.
"Blass Firm Sold to Group Headed By Pfeifer's Owner," Arkansas Gazette, February 16, 1964.
Leroy Donald, "Owner Finds New Home for Store Behind Facade," Arkansas Gazette, October 23, 1983.
Ray Hanley, Little Rock (Arcadia Publishing, 2007), 25.
Leon Joseph Rosenberg, Dillard's: The First Fifty Years (University of Arkansas Press, 1988), 41-46, 52, 55, 61-62.
External links
| | |
| --- | --- |
| Street View of the former Blass Store | |