George Izard
From FranaWiki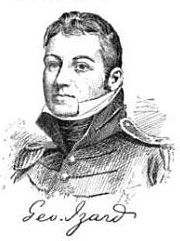 George Izard was second Territorial Governor of Arkansas, serving from 1825 to 1829.
Izard was born to wealthy South Carolinians Ralph and Alice Izard in 1777. He rose to the rank of major general during the War of 1812. After the war he authored the Official Correspondence with the War Department in 1814 and 1815 (1816). He replaced James Miller as territorial governor on March 4, 1825.
Izard died in office on November 22, 1828. He is buried in Mount Holly Cemetery.
Izard County bears his namesake.
References
The National Cyclopaedia of American Biography: Being the History of the United States as Illustrated in the Lives of the Founders, Builders, and Defenders of the Republic, vol. 10 (J.T. White, 1900), 183.
External links