Fourche Creek
From FranaWiki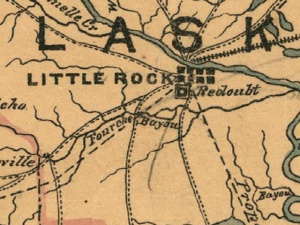 Fourche Creek ("Fork Creek," pronounced locally as "Fush" or "Foosh") is an urban waterway flowing through Little Rock, Arkansas. The mouth of the creek was the site of a Civil War engagement between Union and Confederate Troops called the Battle of Bayou Fourche.
The Little Rock Department of Parks and Recreation calls the creek Fourche Bottoms. The U.S. Army Corps of Engineers - Little Rock District refers to the creek's 90,000 acre watershed as the Fourche Bayou Basin. Ninety-eight percent of the city of Little Rock is in the Fourche Creek watershed. Major tributaries in the watershed are Brodie Creek, Callagahan Branch, Coleman Creek, Crooked Creek, Haw Branch, Little Fourche Creek, McHenry Creek, Otter Creek, Owen Creek, Panther Creek, and Rock Creek. The creek's mouth is located on the Arkansas River near the Little Rock National Airport.
The city maintains two public boat launches on the creek at Benny Craig Park and Interstate Park. The creek also flows through Hindman Park. Fourche Creek's pristine areas contain 300 year-old bald cypress trees.
The creek suffered a severe flood in 1973; eight lives were lost. By the mid-1990s the Army Corps Little Rock District had completed a $30 million flood reduction project on the creek.
Audubon Arkansas and the U.S. Army Corps of Engineers are currently attempting to clean up and preserve the creek as prime waterfowl and aquatic habitat. More than $5 million has been allocated to the Army Corps Fourche Creek Urban Rivers Restoration Initiative effort, though not all the funds have as yet been appropriated.
References
External links