Charles S. Stifft
From FranaWiki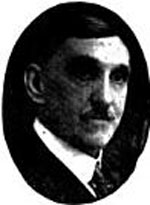 Charles S. Stifft was a prominent local Little Rock jeweler, realtor, and building and loan president.
Stifft was the president of the Stifft Realty Company and Stifft Jewelry Company, vice-president of the Arkansas Diamond Mining Company, treasurer of the Pulaski County Fair Association, and a director of the Mercantile Trust Company. He was also the developer of Stifft's Addition to the Pulaski Heights neighborhood.
Stifft verified John Wesley Huddleston's discovery of the first two blue-white diamonds from what became Crater of Diamonds State Park near Murfreesboro, Arkansas, in 1906. Stifft initially suspected the stones had been deliberately "salted" to increase the value of the land.
Charles S. Stifft Jewelers was originally located at 113 Main Street, and at 511 Main Street from at least 1952 to at least 1982. The shop specialized in such items as class pins, rings, fobs, and medals in the 1910s.
Stifft is buried in Oakland Cemetery.
References
"Arkansas Diamonds Here," The New York Times, May 2, 1910.
Bernie Babcock, Yesterday and Today in Arkansas: A Folio of Rare and Interesting Pictures from Mrs. Babcock's Collection for Stories and Legends of Arkansas (Jordan & Foster Printing Co., 1917), n.p.
"Genuine Diamonds Found to the Number of 140 in Pike County, Arkansas," Arkansas Gazette, August 5, 1907.
Mike Trimble, "30 Years Create Downtown Differences," Arkansas Gazette, May 2, 1982.
External links