Charles S. Stifft Jewelers
From FranaWiki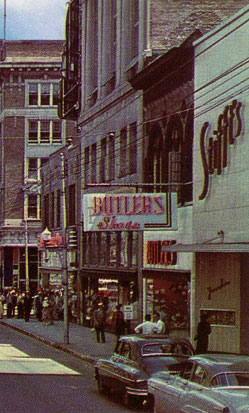 Charles S. Stifft & Co. occupied frontage at 113 Main Street and 511 Main Street.
The store was founded by Charles S. Stifft. Stifft competed in the late nineteenth century with local jewelers F. C. Reed & Co., J. V. Zimmerman, and Louis C. Bernays.
Over its long history the store sold watches, fine clocks, sterling silver, lead crystal, diamonds, and fine jewelry. The store is said to be the first business in the state fitted with an elevator and with air conditioning.
In the 1950s the store was managed by Max Moses, who eventually became the owner. Moses sold the store to Zales for $7 million. The store was sold again to Baily Banks & Biddle, and the store was eventually renamed after that company in the late 1990s.
References
Mike Trimble, "30 Years Create Downtown Differences," Arkansas Gazette, May 2, 1982.
External links