Baring Cross Bridge
From FranaWiki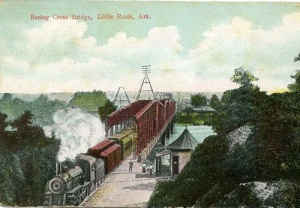 The Baring Cross Bridge spanning Arkansas River in Little Rock, Arkansas, opened on December 21, 1873, to carry traffic on the St. Louis, Iron Mountain, and Southern Railway.
The bridge was to have been originally constructed under president Thomas Allen of the Cairo and Fulton Railroad Company, which named the proposed structure after the British banking firm of Baring and Company and a cross which appeared on Allen's family coat of arms.
Faced with a shortage of cash, principals formed a independent Baring Cross Bridge Company and contracted with the American Bridge Company to make the 978-foot bridge a reality. The original bridge consisted of four Howe Truss spans. A second deck highway was added in 1877, but in 1886 the highway was reduced to the same level as the railway, running parallel to it.
The original bridge washed away in the Arkansas River Flood of 1927. The Missouri Pacific Railroad Company tried to save the bridge by parking coal cars on the structure, but these efforts failed on April 21. A new bridge opened under the same name on February 2, 1929. The Missouri Pacific Railroad added a lift span to the bridge in 1967 to conform with requirements of the new McClellan-Kerr Arkansas River Navigation System.
The Union Pacific took over ownership of the bridge in 1997.
References
External links