Anthony House
From FranaWiki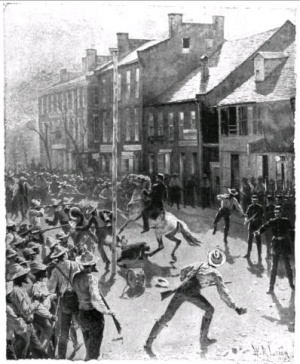 The Anthony House was the first public inn on Markham Street in downtown Little Rock. The Anthony House opened at the southwest corner of Markham and Scott streets in 1841 under Major James C. Anthony. The three-story hotel held twenty-eight bedrooms, two parlors, and a sixty foot dining room. The hotel advertised "accommodations unsurpassed by any establishment west of the Alleghanies." The hotel also advertised that it had ice year-round. David Skelton managed a brickwork stable for the hotel nearby. It was also the headquarters of the general stage office for the Butterfield Overland Mail.
The hotel is famous as the headquarters of Governor Elisha Baxter during the Brooks-Baxter War of 1874.
Anthony House had twenty-two rooms, a dining hall measuring sixty feet in length, as well as meeting space. The inn was destroyed by fire in 1875 or 1876. The hotel stood where the Capital Hotel stands today.
Other early hotels included the City Hotel operated by C.L. Jeffries, the Eagle House, the National House, Franklin House, and the Washington and Rock Hotel.
References
Tom W. Dillard, "Butterfield Overland Mail's Fort Smith Route a Harsh Task," Arkansas Democrat-Gazette, December 23, 2007.
Tom W. Dillard, "Early Arkansas Hotels Would Appall Today's Travelers," Arkansas Democrat-Gazette, February 10, 2008.
"Historical Society to Discuss Old Hotel," Arkansas Democrat-Gazette, April 8, 1995.
Ira Don Richards, Story of a Rivertown: Little Rock in the Nineteenth Century (1969), 56.
Bob Sallee, "Little Rock Lit Up the Skies Way Back in 1860," Arkansas Democrat-Gazette, July 3, 1997.
External links