Villa Marre
From FranaWiki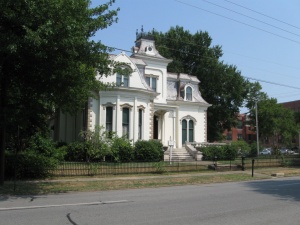 Villa Marre is a Second Empire and Italianate home in the Quapaw Quarter of Little Rock built in 1881 by Angelo Marre and Jennie Marre. Angelo Marre was a ninteenth-century transplant from Borzonaca, Italy, who made his fortune as a liquor importer and saloon owner.
The exterior of the Villa Marre is recognizable as the fictional Georgia home of Sugarbaker Designs from the 1980s and 1990s CBS sitcom Designing Women produced by local Arkansans Linda Bloodworth-Thomason and Harry Z. Thomason. The fictional address of the home on the show was 1521 Sycamore Street in Atlanta.
The interior of the home features a walnut staircase and ornate chandeliers.
The home passed from the hands of the Marre family to Arkansas Attorney General Edgar Burton Kinsworthy in 1905. Kinsworthy occupied the home for twenty-seven years. Since then house has been a retirement community, school of dance, and meeting house for Alcoholics Anonymous. In 1964 it was condemned but spared the wrecking ball by James W. Strawn, Jr. a local furniture company owner. In 1979 the home passed to the Quapaw Quarter Association, which used it as its headquarters. It has been a private home since 2002. The renovated 1321 South Scott Street Villa Marre is on the National Register of Historic Places.
References
Jo Ellen Maack, "Behind Closed Doors: The Inside Story of the Villa Marre," M.A. thesis, University of Arkansas at Little Rock, 2003.
External links