Tuf-Nut Lofts
From FranaWiki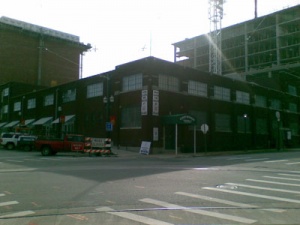 Tuf-Nut Lofts is a thirty-one unit apartment building at the corner of Third and Commerce streets in downtown Little Rock. The building is part of the larger $80 million River Market Place mixed-use residential complex currently under development. The Tuf-Nut building also houses the corporate offices of Candy Bouquet International. The apartments opened in the former Tuf-Nut blue jeans manufactory in 1999. The lofts are owned and operated by Moses Tucker Real Estate, which purchased the building for $500,000. The building anchors the Tuf Nut Historic Commercial District, the smallest historic district in Little Rock. The address of Tuf-Nut Lofts is 423 East Third Street.
References
Linda S. Caillouet, "Tuf-Nut Factory Reborn as Trendy Lofts; Young Professionals in New Apartments Will Replace '50s Bluejeans Stitchers," Arkansas Democrat-Gazette, July 4, 1999.
Don Chaney, "Firm Plans to Renovate Factory Near River Market," Arkansas Democrat-Gazette, January 26, 1999.
Edward Klump, "Condos to Rise on East Capitol: Moses Tucker Form's $3 Million Project to Offer 20 Units," Arkansas Democrat-Gazette, May 1, 2003.
Laura Stevens, "Two Plot New Development for LR: $80 Million Mixed-Use Complex to Take Shape Near River Market," Arkansas Democrat-Gazette, November 4, 2006.
External links